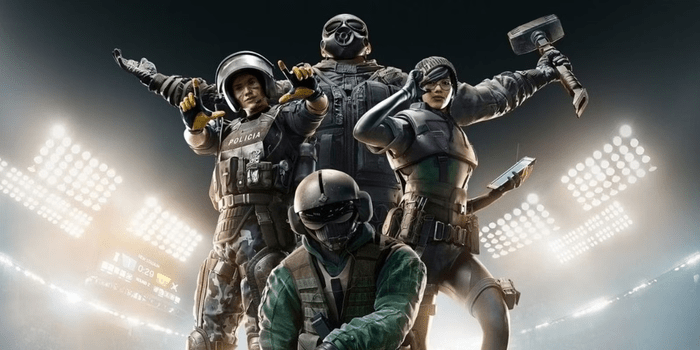 When Tom Clancy had a mental conception of this game and eventually partnering with Ubisoft as the main developers of the Rainbow six siege. He didn't think it will be a global hit. Since the introduction of the game to the world audience in 2015 it has become the first choice of gaming enthusiasts because of its highly competitive nature. Tom Clancy's Rainbow Six Siege (R6) can be best described a highly technical and tactical first-person shooter game with lots of amazing characters. It is a game that allows players choose different characters from the rainbow team.
From the design of these characters they have special abilities, weapons, and gadgets. And not only that they are also from different countries. The rainbow six siege (R6) is designed in such a way that for players to be able to accumulate higher skill sets, unlock very specialized and exclusive awards, they would have to achieve higher ranks. Most players choose the route of paying to improve and boost Their R6 ranks, while others opt for the free method of boosting R6 ranks. So this article if for those gamers who wish to boost their R6 ranks for free.
Understanding Rank Boosting in R6
The Importance of Ranks:
If you have ever played this game rainbow six siege (R6) one of the first things you will definitely notice is the importance of ranking in the game and how players strive to ensure that they have a higher ranking in the game. This is because ranks are a way of showing a player's progress in terms of skill sets, abilities and strategies.When a player increases in ranks  it shows progress and also allows such a player to be pitched against similar opponents with the same level of skill set. This makes the game more intriguing and exciting.
 

Definition of Rank Boosting:
Simple put R6 rank boosting  occurs when an advanced players play on behalf of a less experienced player in other to help them climb the rank. For someone who is a newbie to the game, it might be a bit difficult progressing and increasing in their rank because of the intricate and tactical nature of the game. This makes them to look for more experienced players who would agree to play on their behalf in other to boost their rank.
Effective Strategies for Free R6 Rank Boosting:
 

Personal Development and Skill Improvement
The most effective and potent way to boost your ranks in rainbow six siege is to adequately improve and enhance your skill sets as a player and this can be achieved through personal development. Personal development in this context has to do with improving your game play, have a better knowledge of how the maps work, having a good game sense and most importantly adopting an efficient strategy.
 

Forming or Joining a Squad:
The rainbow six siege is a multiple player game which means that you can form or join a squad as it is allowed in the game. The advantage of joining a squad is that it improves your probability of winning, thereby increasing your rank as a player. In joining a squad it is pertinent that you align with experienced players which  is why it is advisable to join gaming communities, and forum In other to find advanced and experienced players to team up with.
Constructing a Game Plan for Rank Boosting:
 

Set Achievable Goals:
One of the costly mistakes that newbie gamers make when the start playing the rainbow six siege is that they set very lofty and unachievable goals for themselves because they want to boost and increase their ranks. Instead it is advisable to set achievable goals by focusing on your certain aspects of your gameplay that can help you reach those goals.
 

Analysing Gameplay and Learning from Mistakes:
The fact is mistakes are bound to happen because of the tactical nature of the game. So the best you can do is simply analyse and learn from your mistakes in other not to repeat them again. To have a better analysis you can make use of Ubisoft which is the main developers of the game as the offer in-depth analysis that can be very useful to you in enhancing your game play 
 

Utilizing In-Game Resources
Custom Games and T-Hunt Practice:
This is self-explanatory as the caption implies trying to improve your game play by engaging in custom games and hunt. Playing these games will help you to sharpen your aim, have a deep knowledge and understanding of the map, learn more about callouts, and most importantly improving and enhancing your ability usage. Improving yourself by practicing in these games will increase your chances of winning ranked matches.
Watching and Learning from Professional Players:
The statement "Nobody is an island" is very much applicable in this game rainbow six siege (R6). There advanced and experienced players who have deciphered the secret of progressing in the game and increasing in rank. So as a newbie it is advisable that you align yourself with them in other to have first-hand information and knowledge from them. In addition to that watching pro league matches, and tournaments can provide you with the needed insights on operator strategies, and effective game play techniques.
Capitalizing on Events and Game Modes
Participating in Seasonal Events
One of the features of the rainbow six siege that most players do not actively utilise is the limited time events. These events are very beneficial especially to new players as it can become an avenue for these players to sharpen their skills and improve the entirety of their game play which will be very helpful in the long run because it contributes to their rank boosting efforts.
 

Taking Advantage of Casual Playlists
This is another feature of rainbow six siege that players take for granted simple because it doesn't contribute to rank climbing. This shouldn't be the case because these casual playlists offer players the opportunity to hone their skills, experiment with new operators, while at the same time develop more advanced and efficient game play strategies that can be very helpful in ranked matches.
Conclusion
Rainbow six siege is best enjoyed when you have a high ranking in the game. It makes the whole gaming experience awesome. To get ranking you could either pay for it or get it for free. Getting a higher ranking for free entails a lot of dedication, focus, and combination of strategies such as joining a squad, learning from your mistakes as you play the game, making effective use of in-game resources at your disposal, taking advantage of events and game modes. Mostly importantly setting achievable goals and consistently pursuing them.