PowKiddy devices have been gaining popularity among gamers for their affordability and versatility. This comprehensive guide will help you navigate common issues, optimize your experience, and get the most out of your PowKiddy gaming device.
What is PowKiddy?
PowKiddy is a brand known for producing affordable gaming devices, such as the RGB20s and V90. These handheld consoles can run games from various platforms, including DOS, GBA, and more. PowKiddy devices are a great option for gamers looking for a portable and versatile gaming experience.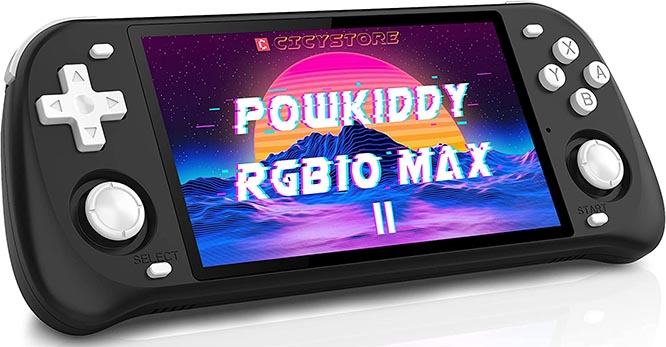 Getting Started with Your PowKiddy Device
To begin using your PowKiddy device, follow these simple steps:
Charge your device using the provided USB cable.
Power on the device by pressing and holding the power button.
Navigate through the menu using the directional pad and buttons to select and launch games.
Adjust settings, such as screen brightness and volume, through the settings menu.
For device-specific instructions, refer to the user manual that comes with your PowKiddy device.
Custom Firmware and Emulators
Custom firmware and emulators can enhance your gaming experience by adding new features and supporting additional game platforms. Some popular custom firmware options for PowKiddy devices include:
RetroArch: A versatile emulator that supports various gaming platforms.
EmuELEC: A Linux-based operating system that runs emulators and game engines.
Batocera: Another Linux-based operating system with a wide range of emulator support.
To install custom firmware, follow these steps:
Download the custom firmware of your choice.
Unzip the downloaded file to a microSD card.
Insert the microSD card into your PowKiddy device.
Power on your device and navigate to the firmware update option in the settings menu.
Follow the on-screen instructions to complete the firmware update process.

Changing SD Cards and Expanding Storage
To change the SD card or expand the storage of your PowKiddy device, follow these steps:
Power off your device and remove the existing SD card.
Insert a new SD card with a larger capacity into the device.
Copy the contents of the original SD card to the new card using a computer.
Insert the new SD card into your PowKiddy device and power it on.
The device should recognize the new SD card and
Best Gift V90
The PowKiddy V90 is a fantastic gift for gaming enthusiasts, especially those who love retro gaming. This foldable handheld console comes with 6,000 built-in games, providing endless hours of entertainment. The device is easy to use, portable, and offers a great gaming experience for people of all ages.
PowKiddy RGB20S Design and Performance
The PowKiddy RGB20S features a compact and ergonomic design, making it perfect for on-the-go gaming. It has a 3.5-inch IPS screen that delivers vibrant colors and sharp visuals. The device is powered by an RK3326 quad-core processor, which ensures smooth performance and fast load times for games.
PowKiddy RK2023 Review
The PowKiddy RK2023 is a retro handheld game console with a 3.5-inch 4:3 IPS screen and an RK3566 chipset. It has a solid build and a dual-speaker stereo system for immersive audio. The device supports various emulators and game platforms, providing a vast library of games to enjoy.
Are PowKiddy Handheld Consoles Legal? How Powerful Are They?
PowKiddy handheld consoles are legal, as they are designed to run legally acquired games and ROMs. However, it is essential to ensure that you have the legal rights to use any games or ROMs loaded onto the device. In terms of power, PowKiddy consoles are capable of running various games smoothly, thanks to their capable processors and adequate RAM.
Conclusion
In conclusion, PowKiddy handheld consoles are an excellent option for gaming enthusiasts who want to enjoy retro games on a portable device. These consoles come in various models, each with unique features and capabilities. Whether you're looking for a foldable design, a powerful processor, or compatibility with different platforms, PowKiddy has a handheld console that will meet your needs.
FAQs
What is a PowKiddy handheld console?
A PowKiddy handheld console is a portable gaming device that allows users to play retro games from various platforms. These consoles are compact, easy to use, and come with built-in games, making them perfect for gaming enthusiasts.
Which PowKiddy console is the best for retro gaming?
The best PowKiddy console for retro gaming depends on your preferences and needs. Some popular models include the PowKiddy V90, RGB20S, and RK2023. Each model has its unique features and capabilities, so it's essential to research and compare them to find the best fit for you.
How do I update the firmware on my PowKiddy console?
To update the firmware on your PowKiddy console, you will need to download the latest firmware version from the official PowKiddy website or a trusted source. Then, follow the provided instructions to install the update on your device. Make sure to back up your data before updating to avoid losing any saved games or settings.
Can I add more games to my PowKiddy console?
Yes, you can add more games to your PowKiddy console by downloading ROMs from the internet and transferring them to the console's SD card. However, ensure that you have the legal rights to use the games and ROMs you download.
What platforms do PowKiddy consoles support?
PowKiddy consoles support various platforms, including NES, SNES, Game Boy, Game Boy Color, Game Boy Advance, Sega Genesis, Neo Geo, and many more. The compatibility with different platforms may vary depending on the model, so be sure to check the supported platforms for the specific PowKiddy console you are interested in.