MetroPCS APN Settings: If you have opted for MetroPCS – now it is Metro By T-Mobile – and looking for the right options for setting up the internet on your device, you should need access to the right APN settings on your device.
If you are not yet on MetroPCS and looking for the best network, you may be missing something important. MetroPCS is now managed by T-Mobile and has been renamed Metro by T-Mobile. The service claims that it now connects more than 99 percent of Americans.
Moreover, yes, they are taking to move to the next level with the upcoming 5G network. What's more, it has been able to achieve the standard of being the number 1 low-cost phone carrier service in the US.
Many tech-based websites consider MetroPCS as one of the best tops ranked prepaid carriers for Americans.
They may need to work on customer service as such, but the service quality and the plans that they offer are just wonderful and should be something you would not tend to overlook.
Customer service has also been a game-changer when it has moved ahead with T-Mobile.
Metro PCS APN Settings for Android
If you are using MetroPCS wireless service, then please use the following APN values:
Name: MetroPCS
APN: fast.metropcs.com
Proxy: Not Required
Port: Not Required
Username: Not Required
Password: Not Required
Server: Not Required
MMSC: http://metropcs.mmsmvno.com/mms/wapenc
MMS proxy: leave it blank
MMS port: leave it blank
MCC: 310
MNC: 16
Authentication type:
APN Type: default,mms,supl
APN Protocol: IPv4
APN Roaming Protocol:
Bearer:
MVNO Type:
Save the APN once you've entered the settings provided by your carrier.
Click on the menu option (the three dots in the upper right) and click the "Save" button.
Pick the Name we've just created
Next, to your signal bars, you'll now see 4G, 3G, H, E or G indicating that you're now connected.
MetroPCS APN Settings for iOS
APN: fast.metropcs.com
Username:
Password:
Go to LTE Setup (Optional) section and enter information as below
APN: (Leave Blank)
Username: (Leave Blank)
Password: (Leave Blank)
Enter the below details in MMS section:
APN: fast.metropcs.com
Username:
Password:
MMSC: http://metropcs.mmsmvno.com/mms/wapenc
MMS Proxy:
MMS Max Message Size: 1048576
MMS UA Prof URL: http://www.apple.com/mms/uaprof.rdf
Press the Home button to save the APN and exit to the main screen.
Now, restart iOS to apply the new MetroPCS 160 2 APN settings.
MetroPCS APN Settings for Windows
Profile name: MetroPCS 160 2
APN: fast.metropcs.com
User name:
Password:
Type of sign-in info: None
IP type: IPv4
Enable Use this APN for LTE and replace the one from my mobile operator
Proxy server (URL):
Proxy port:
Tap Save
In Cellular, select your SIM card
Select Properties
Under MMS APN select Add an MMS APN
Profile name: MetroPCS 160 2
APN: fast.metropcs.com
User name:
Password:
Type of sign-in info: None
IP Type: IPv4
Proxy server:
Proxy port:
MMSC (URL): http://metropcs.mmsmvno.com/mms/wapenc
MMSC port:
Maximum MMS size (KB): 2048
Tap Save.
MetroPCS APN Settings for BlackBerry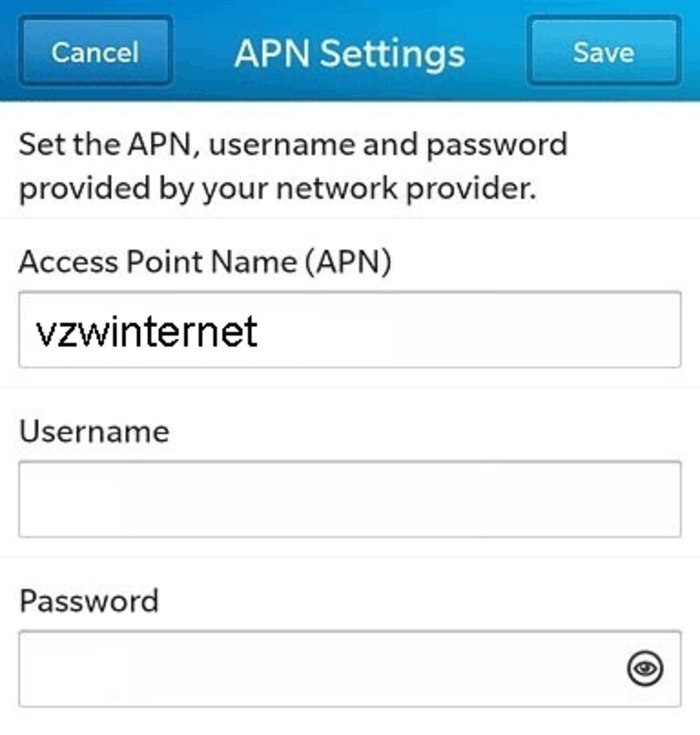 On the home screen, swipe down from the top.
Tap Settings, and then tap Network Connections.
Tap Mobile Network.
Tap APN at the bottom of the screen.
Enter the following information:
Access Point Name (APN) = fast.metropcs.com
Tap Save.
Slide your finger left on the display to open the main menu.
Open Text Messages.
Press the dots.
Press Settings and select Text Messages.
Select MMS.
Press Advanced and enter the following details.
APN = fast.metropcs.com
MMSC URL = http://metropcs.mmsmvno.com/mms/wapenc
Proxy URL = :
Press Save.
Return to the home screen.
How to Use MetroPCS APN Settings in Your Mobile:
In case you are not sure how to set this up in your phone, it's pretty simple also:
For Android users, you please go to Settings>More>Mobile networks>Access Point Names>Menu> you can also check this youtube for step by step guide: https://www.youtube.com/watch?v=SI9NBWYn2Vo
You should then create a New APN and enter the MetroPCS APN Settings we have provided to you above
Save, Restart your smartphone and test it – try opening a website in your favorite browser
Modifying APN Settings:
What makes MetroPCS a perfect solution for your needs in a preferred prepaid carrier would be the special features it packs with its plans. It provides Google One and Amazon Prime benefits for its unlimited plan subscribers.
The Data Maximiser feature is yet another advantage that the service offers you. This can help you stream videos at a lower resolution without losing the quality. This can also help you get more data usage benefits out of your monthly data allotment.
In addition, there are several add-on plans that would help you get unlimited calling features to Mexico and Canada. In essence, we would consider it one of the best options for use with voice, data, and texting services across the entire US region.
Since the service sources itself on the network from T-Mobile and thus you can be assured of excellent service quality. You can have access to multiple data connectivity options that would include HSPA, HSPA+, and 4G LTE networks.
Final Verdict
Getting on the MetroPCS or Metro by T-Mobile bandwagon is quite simple and easy. Bring your existing phone and get a MetroPCS SIM card. Your service should be activated soon enough. Make sure your APN settings are configured, and once they are done, you are ready to browse the internet.