Why can't I connect with my friend on a different console in Sea of Thieves?
Is Sea of Thieves Cross-Play or Cross-Platform?
Get answers to all these and much more!
Read on!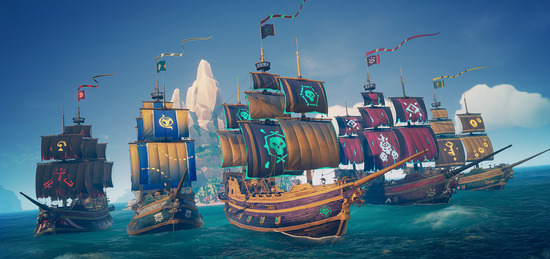 Is Sea of Thieves Cross Platform?
Yes, Sea of Thieves is a cross-platform game. As of 2023, the developers have facilitated cross-play between Xbox and Windows 10 users.
This essentially means that players operating on these two platforms can effortlessly dive into the same game server, becoming part of a unified gaming community.
This feature's integration has been smooth, with the cross-play feature being activated by default, thereby ensuring that there is no cumbersome setting up process.
Sea of Thieves Cross platform between PC and PS4/PS5
As of the current status, Sea of Thieves supports cross-platform play for Xbox and Windows 10 users. However, clarity regarding the inclusion of PS4 and PS5 in the cross-play feature remains ambiguous.
It's always a good practice for players to stay updated with the game's official site or trusted gaming news sources to gather information on cross-play extensions to other platforms.
Sea of Thieves Cross platform between PC and Xbox One
Sea of Thieves fully supports cross-platform gaming between PC users and Xbox One enthusiasts. This collaborative feature ensures that players, irrespective of their platform, can form alliances, venture together into the vast oceans, and unravel the game's mysteries collectively.
It strengthens the community feel of the game, emphasizing its cooperative aspect.
Sea of Thieves Cross platform between Xbox One and PS4/PS5
At present, there is no confirmation from the game developers about extending cross-platform features between Xbox One and PlayStation users (PS4/PS5).
However, the gaming industry's dynamic nature, combined with a growing demand for unified gaming experiences, might lead to more integrative features in the not-so-distant future.
Cross-progression or Cross-Generation In Sea of Thieves
The beauty of Sea of Thieves doesn't stop at cross-play. The game also boasts of a cross-progression feature. This feature caters to gamers who might operate on both Xbox and Windows 10 platforms.
By ensuring that their gaming progress remains consistent across platforms, it adds a layer of flexibility and convenience.
In essence, your achievements, loot, and character progression remain intact, even if you switch your gaming device.
Can I play Sea of Thieves On Split Screen?
Although Sea of Thieves offers a vast multiplayer environment, it currently does not extend support for split-screen gameplay.
The core design emphasizes providing an immersive experience that a split-screen might fragment. Yet, those yearning for shared adventures can always join the game online, forming crews with friends and acquaintances alike.
Conclusion
Sea of Thieves has become a beacon in the world of cross-platform gaming. Amalgamating players from Xbox and Windows 10 into a singular realm, amplifies the essence of cooperative gaming.
Though certain platforms like PlayStation are yet to enjoy this unified experience, the future remains hopeful. Until then, Sea of Thieves remains a testament to the collaborative spirit of modern gaming.
FAQs
Q1: Is Sea of Thieves cross-platform between Xbox and PC?
Absolutely, Sea of Thieves provides cross-platform play between Xbox and Windows 10.
Q2: Can I play Sea of Thieves on split screen?
Currently, Sea of Thieves does not extend support for split-screen gameplay.
Q3: Does Sea of Thieves support cross-progression?
Indeed, the game facilitates cross-progression between Xbox and Windows 10. This allows for a seamless transition between platforms.
Q4: Is there any chance of Sea of Thieves introducing cross-play with PlayStation in the future?
As of now, there hasn't been any official announcement. However, given the industry's trajectory, it remains a possibility for the future.
Q5: Are there any settings I need to toggle to enable cross-play in Sea of Thieves?
No, cross-play functionality is enabled by default for supported platforms, ensuring ease of connectivity.