Why can't I connect with my friend on a different console in Overwatch 2?
Is Overwatch 2 Cross-Play or Cross-Platform?
Get answers to all these and much more!
Read on!
Is Overwatch 2 Cross Platform?
Yes, Overwatch 2 is cross-platform. With the ever-growing demand for cross-play in the gaming community, Blizzard Entertainment has ensured that fans can enjoy their favorite game across different platforms.
Overwatch 2 supports cross-platform play between PC, Xbox One, Xbox Series X|S, PlayStation 4, and PlayStation 5.
This means players on different consoles or platforms can now team up, join the same game lobby, and compete against one another, bridging the gap between various gaming communities.
Overwatch 2 Cross-platform between PC and PS4/PS5
Players using a PC can easily connect with those on PS4 and PS5. This collaboration ensures that the player base isn't segregated based on the platform, allowing for a richer multiplayer experience.
Gamers on these platforms can now team up for matches, join the same parties, and enjoy the game without any barriers.
Furthermore, the game's matchmaking system has been optimized to ensure balanced team compositions and competitive matches when crossing platforms.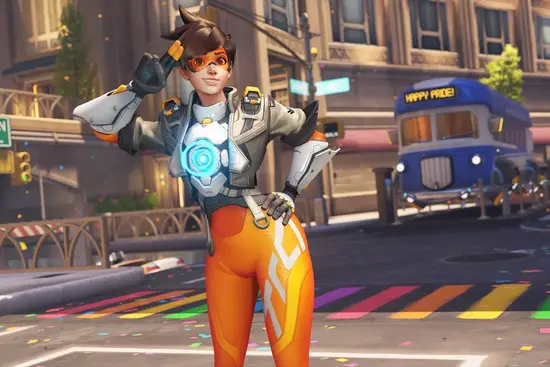 Overwatch 2 Cross-platform between PC and Xbox One
Similarly, PC players can seamlessly connect and play with those on Xbox One. This cross-connectivity between platforms ensures that friends, regardless of their gaming platform of choice, can enjoy Overwatch 2 together, eliminating the historic divide that has often been a challenge for multiplayer games.
This initiative has been lauded by the community, creating a more inclusive gaming experience.
Overwatch 2 Cross-platform between Xbox One and PS4/PS5
Blizzard Entertainment has made it possible for players on Xbox One to team up and compete against those on PS4 and PS5.
This move eliminates one of the age-old rivalries between two major console platforms and brings players from both ecosystems together under the same virtual roof.
This unity has allowed for larger player lobbies and more competitive matchmaking, enhancing overall gameplay.
Cross-progression or Cross-Generation In Overwatch 2
While cross-platform play is a significant feature, cross-progression or cross-generation capabilities in Overwatch 2 are yet to be detailed.
Such features would allow players to retain their progress, unlocks, and stats across different platforms or between previous and next-generation consoles.
Given the emphasis on a unified player experience, it's expected that Blizzard might make announcements related to cross-progression in the future.
Such a feature would be a game-changer, allowing players to maintain their hero stats and skins, irrespective of the platform they choose to play on.
Can I play Overwatch 2 On the screen?
As of the last known update, Overwatch 2 does not support split-screen gameplay. Split-screen has historically been a desired feature for multiplayer console games, allowing two or more players to play on a single device.
However, Overwatch 2, like its predecessor, focuses on online multiplayer, and there hasn't been any official word on the inclusion of a split-screen mode.
Nevertheless, with evolving gaming trends, fans continue to hope that this feature might be introduced in future updates.
Conclusion
Overwatch 2 is breaking barriers with its cross-platform capabilities, allowing players from different platforms to come together and enjoy the game.
This feature not only broadens the player base but also enhances the multiplayer experience, removing traditional boundaries.
While we await further details on cross-progression or the possibility of split-screen gameplay, it's clear that Blizzard Entertainment is focused on delivering a unified and immersive experience for all Overwatch 2 fans.
FAQs
Q: Is Overwatch 2 cross-platform?
Yes, Overwatch 2 is cross-platform between PC, Xbox One, Xbox Series X|S, PlayStation 4, and PlayStation 5.
Q: When was cross-play available for Overwatch 2?
Cross-play for Overwatch 2 was available when the game launched in early access on October 4, 2022.
Q: How does cross-play work in Overwatch 2?
Players can team up with friends from other platforms in the same game lobby and compete against each other in cross-platform matches.
Q: Are there any limitations for cross-platform play?
While the game supports cross-platform, the actual gaming experience may vary based on individual platform specifications and online connectivity.
Q: Will my game progress be saved if I switch platforms?
As of now, Blizzard hasn't provided a detailed update on cross-progression. Players are advised to keep track of official announcements for more information.