Instagram is one of the most trending social media applications. Every day, there are around 400 million active users on Instagram.
For many years, Instagram has provided a smooth experience for millions of users. However, every application suffers from a few glitches from time to time. Now we are going to build our focus on one such error, that is, Instagram invalid Parameters Error.
When users try to log in to Instagram using two-step verification, they get an error Invalid Parameters. Also, when they try to send feedback to Instagram about this issue,
they are getting the same error: Invalid Parameters. This is very annoying as you are not even able to access your account. So we will try to implement a few methods to fix Instagram Invalid Parameters Error.
How To Fix Instagram Invalid Parameters Error?
In this section, you will be getting step-by-step methods to fix this error. Follow along and go through the steps carefully.
Method 1: Try Username Instead Of Phone Number To Login
If you are trying to login to Instagram using your phone number, then try using your username or email Id (preferably username) to log in.
This may sound senseless but this has actually worked for many users across the world. So, implement this method and let us know how this method worked for you. If this method did not work for you, try the next method given below.
Method 2: Try To Login Using Facebook
If you have linked your Instagram account to Facebook, then try login into Instagram using Facebook. This has also worked for a significant number of users. Try this method and let us know how this method worked for you.
Method 3: Improve Your Wi-fi Signal
If the above steps do not help you in fixing Instagram Invalid Parameters Error, then try the following suggestions. The below-mentioned suggestions will make your connection stronger.
Move up the position of your router as it can give you better reception.
Change your router's position to build up your signal strength.
Move the devices away from the router that can interfere with your connection—for example, microwave and other devices.
Method 4: Perform Force Stop & Clear Data On Your Account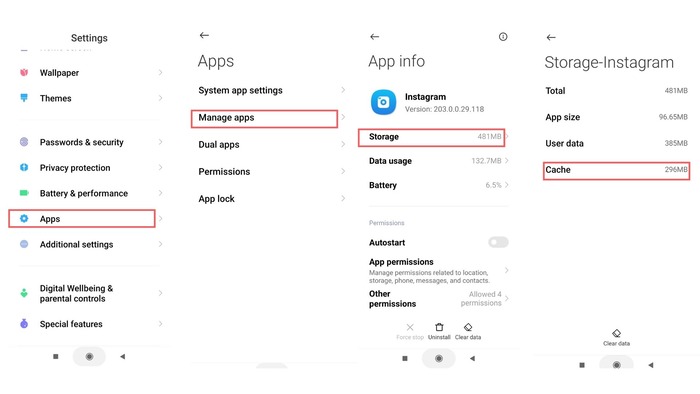 The first step you can do is to clear data and your Instagram account cache. For that, you need to first open your Phone settings, then select the Additional Settings menu, then select the Application Management submenu then navigate to the option of the "Instagram" app. Then tap on "Force Stop" and "Clear Data".
Method 5: Ask For Instagram Help
If after performing all the methods given above, then also you are not able to fix this issue. You can always contact Instagram on this issue.
You can ask them about the reason why you can not send DM to someone else and ask for their help to solve it. They will surely resolve this problem.
Final Words
If you have any concerns regarding this, feel free to reach out to us via comments. Also if you get to know any other methods to fix this error, kindly share that with us so that it can help others as well.