Red Dead Redemption 2 is one of the most technologically advanced games so far, and that is still quite popular even after 5 years.
The incredible graphics, and mechanics that are unlike any other game are what makes this game so special.
On top of that, the developers at Rockstar are known for having a sharp eye for details, and it is safe to say RDR2 is full of them.
For example, Red Dead Redemption 2 has one of the best horse mechanics we've seen in all games and features 19 different horse breeds coming with unique abilities and 59 styles of coat, similar to legendary racehorses like the ones you can find in TwinSpires.
This means that some horses are more unique and therefore considered rare. In today's article, we will go through all of the locations where you can find some of the rarest horses in RDR2.
Get your cowboy hat and let's go.
Few-Spotted Appaloosa
The Few-Spotted Appaloosa, a magnificent breed, holds the title of being one of the rarest horses in the game. If you're determined to add this beauty to your collection, be prepared for a bit of a time-consuming quest.
To spot the elusive Few-Spotted Appaloosa, you'll need to scour any of the Appaloosa spawn locations. 
Keep in mind that it won't be an easy find, as it randomly appears among the Appaloosa herds. Don't worry, though! I've got your back with some handy locations marked on the map below, showing you where to find these herds.
The White Arabian
The Arabian White Coat is an absolute beauty! With its pristine all-white appearance, this horse stands out among the rest. To catch a glimpse of this stunning creature, head up to Grizzlies West, where it can be found gracefully grazing along the Western banks of Lake Isabella.
Though it may be a challenge to come across this elusive horse, once you spot it, you won't be able to take your eyes off its splendor. Just like any other wild horse, catching it requires some skill. You'll need to use your trusty lasso to snare it before it has a chance to bolt away. Once you've secured it, the breaking process begins, allowing you to forge a bond and make it a proud member of your own equine family.
Tiger Striped Bay Wild Mustang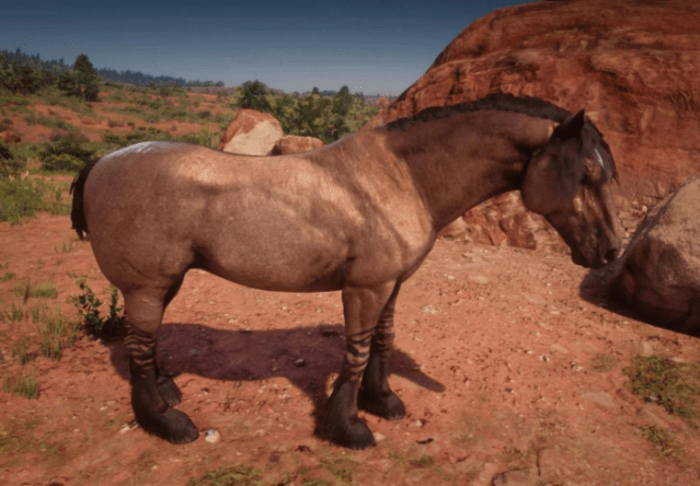 The majestic Tiger Striped Bay Wild Mustang is a rare horse, and you'll need to be in the late game to have a shot at capturing it. 
It is a beautiful horse with tiger stripes on its legs, looking very cool. With that said the Tiger Striped Bay Coat Mustang can only be found in New Austin.
This elusive horse can only be spotted in the southern part of the map, precisely in the open area to the west of the Rio del Lobo Rock. Keep your eyes peeled and your lasso ready, as this beauty might just grace you with its presence in that picturesque location.
Perlino Andalusian
This is a beast of a horse. At least when it comes to its appearance.
To catch a Perlino Andalusian, head north of Annesburg near the Brandywine Drop waterfall. Look for the horse just below the letter "R" of "ROANOKE RIDGE," right beside the scenic Roanoke Valley. Keep your eyes sharp, and you'll have a chance to encounter this stunning breed in that picturesque location.
There are many different horses in RDR2 and these are some of the rarest you can find. Bear in mind that being a rare horse doesn't mean it can run faster or have more stamina. 
The horse is rare due to its unique coat color and breed type. But at least you'll look cool when you tame it.
So, take out your map and go on horse hunting. It might be the perfect thing to spice things up if you already completed the main story.