If you have a new PlayStation 3 controller, then it's great. And if you are here, then you must be finding a path for how to make the ps3 controller work on pc. Friends, you are at right place. Here, you will find best ways for ps3 controller Windows 10.
Connect Ps3 Controller To Pc Step By Steps
Let's discuss how to use PS3 controller on pc Windows 10 step by step.
Method #1: To Connect PS3 Controller on PC
Step #1: Downloading The DS3 Program To Your Computer To Run Ps3 Controller On Pc
To connect ps3 controller to pc first download the programme named DS3 Tool on your pc from the following link: https://ds3-tool.en.softonic.com/download
Go to little down and download the latest version, or any other compatible version you want and for windows" width="1024″ height="572″ />
Step #2: Installing the Program and set-up the PS3 Controller
Now click on "Latest version" (or the version you select) and install it and then set up your ps3 controller with it.

Step #3: when you're done
After installing, set up your ps3 controller and open the game and then go to settings of a controller, and replace each control, with the ps3 controller.
For example, in a game using SPACEBAR "jump" is done from the keyboard, you can change it to be the X button on the ps3 controller, and so on.
Method #2: Connect PS3 Controller to Windows
Step #1: First, plug your PS3 controller with a USB cable to your PC. You will find a screen like an image below.
Step #2: Download Microsoft .NET 4.0, Visual C++ 2013 Runtime from Microsoft website from the following link and install it on your pc:
https://www.microsoft.com/en-us/download/details.aspx?id=49981
https://www.microsoft.com/en-us/download/details.aspx?id=40784
Step #3: Next, install latest Xbox 360 controller driver on your pc. It is for your system to recognize your PS 3 controller.
Note: download Xbox 360 driver from the official Microsoft website and install it on your Windows.
Step #4:
You can do it automatically, too with Driver Easy. It will recognize your system and find the correct drivers for it. For that download and install driver easy.
Run the software and click on Scan Now.
After that click on update all or click on update for a particular update of Xbox 360 controller.
Step #5:
Now download an emulator (SCP toolkit) for your Windows to recognize your PS 3 controller as an Xbox 360 controller from the following link: https://forums.pcsx2.net/Thread-XInput-Wrapper-for-DS3-and-Play-com-USB-Dual-DS2-Controller
Next, Extract the downloaded files and go to ScpServer > bin and open ScpDriver- Application type.

Click on Install.

After installation closes the open window.
Now go back to bin folder and double-click on ScpMonotor.
You will see your PS 3 controller shown as Pad 1.
Method #3: PS3 Controller on PC
Step #1: Turn on the PS3 Controller and press PS button on a controller.
Step #2: Using USB cable connect PS3 Controller to PC. Make sure that USB driver is installed correctly.
Step #3: Go to SCP Toolkit Website from the following link and enable the controller of your PlayStation 3 to steam games. https://github.com/nefarius/ScpToolkit/releases/tag/v1.6.238.16010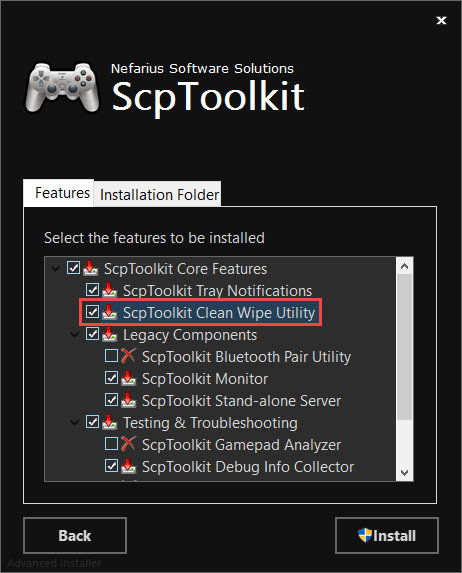 Step #4: Now, install it by following on-screen instruction.
Step #5: Download SCP Toolkit Driver Installer from the following link and open it:
https://forums.pcsx2.net/Thread-XInput-Wrapper-for-DS3-and-Play-com-USB-Dual-DS2-Controller
Step #6: Uncheck the option of install Dualshock 4 Controller.
Note: download the latest driver which is compatible with windows 10.
Step #7: Go to the check the Box and choose Dualshock 3 Controller to Install >> Check Wireless Controller >> Click install. After the installation is completed your ps3 controller on pc windows 10 is ready.4
Method #4:
Step #1: To use ps3 controller on pc, you have to download and install MotioninJoy form its official website. MotioninJoy is a device/tool that will allow the PS3 controller to work with a laptop or computer/pc.
Here is useful video tutorial:
Step #2: Once the program installed, open it.
Step #3: Now open your Device Manager tab and check the box controller. Now, load the driver. Continue with the installation of the driver even though the driver is unsigned.
Step #4: You can also download and install better DS3 for ps3 controller pc. You can access this free download from the developer.
Step #5: After finishing the tool and driver installations, you can configure your controller. Create a new profile for all of your button configurations. Give the profile a name and save it. You can then set up Bluetooth, too.
You don't need to connect the controller via USB. You just need to connect your controller to your Windows PC and start playing your game. Make changes according to your need for the controller. If you don't do that then your controller not detect it properly. In case you are using a wired controller then you need to plug PS3 controllers USB cable on your controller.
How to connect PS3 controller on Windows 10 using Bluetooth?
Now, let's take a look at the step by step Installation guide to connect PS3 controller using Bluetooth.
Step #1:
First, download the following software from the link given below. Note that for Windows 7 users, it requires the Xbox 360 controller driver and for Windows 8 and 10, it is already built in, so you don't need to download it.
Microsoft Visual C++ 2010 Redistributable Package:
Microsoft Visual C++ 2013 runtime:
Xbox 360 controller driver (only for Windows 7):
Step 2: Plug your Dualshock 3 into your PC with a mini-USB cable and plugged in Bluetooth dongle and enable your motherboard's Bluetooth. You need a Bluetooth 2.0 or higher dongle.
Step 3: Download the ScpToolkit and run the installer. Then accept the terms and choose your install location. Next from the menu of all options to install, keep it as default and make sure that the ScpToolkit Bluetooth Pair Utility option is ticked. Now, click on Install tab to begin the installation.
Step 4: After approx. 30-40 seconds, ScpToolkit will install, and you can find it with a big green button that says Run Driver Installer. Click on the green button.
Step 5: Check all the boxes of the drivers you want to install. In case of any confusion make sure that you checked:
Install Dualshock 3 driver box,
PlayStation 3 controller box,
Choose Bluetooth dongles to install box,
Force Driver Installation (for Vista users only).
Step 6: Now the installation process starts, and you can watch lots of pop-ups on the side of your screen as it recognizes your hardware. Scroll down at the bottom of the log and see that it shows Dualshock 3 USB Driver installed and Bluetooth Driver installed. If you can see this two option, click on exit.
Step 7: In your system tray, you can see ScpToolkit as an icon. Go to the Start Menu for ScpToolkit Settings Manager and change the settings if you want. All done!
Conclusion:
It is all about how to use a ps3 controller on pc. We hope any of above method surely work for you. If you have any doubts about connecting PS3 controller on PC, then use the comment box. Thank you!
We have updated the connecting PS3 controller on PC article and tested the guide. All the guide is working and it also works for you.