Do you play Hollow Knight and its hard for you to remember Hollow Knight maps? Read this blog, We have made it easy for you!
Maps are important to navigate important locations and to not get lost while playing. Hollow Knight maps are multi purpose and you can use them to kill the bosses, explore and more.
Hollow Knight currently has over 12 maps that are used to navigate and kill enemies. You can create different strategies with a map to win the game! 
This is the list of Hollow Knight maps:
1. Kingdom's Edge
2. Resting Ground
3. Dartmouth
4. Ancient Basin
5. Fog Canyon
6. Fungal Wastes
7. Howling Cliffs
8. Forgotten Crossroads
9. City of Tears
10. Crystal Peak
11. Greenpath
12. Queen's Garden
These maps are different and a bit technical. So, now we are going to discuss these maps briefly.
1. Kingdom's Edge
The first Hollow Knight map that we are going to talk about is The Kingdom's Edge. It is the eastern section of Hollownest. The characters that you will interact with in this map are Tiso, Hornet, Mister Mushroom, Nailmaster Oro and Cornifer.
The map is divided into two parts Cast-off shells and Special Rooms. You will also get to meet these two bosses:
2. Resting Ground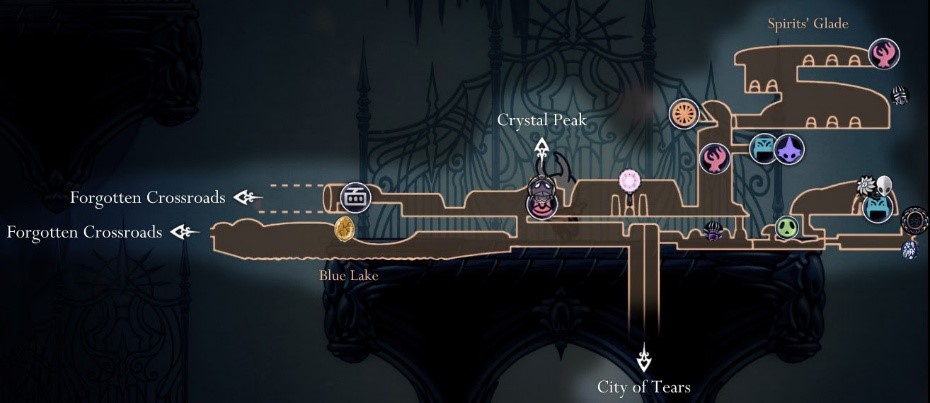 The next Hollow Knight map is Resting Ground. This map is filled with graves. It has a large surface area. You can get to this map from three points:
Forgotten Crossroads
City of Tears
Crystal Peak
You will get things like Mash Shard, King's Idol, Dream Nail and Wanderer's Journal. This map is situated on the end of Hollownest.
3. Dirtmouth
Dirtmouth is located at the start of the game. It is a small village. Buildings in this maps are filled with Non-players. The bosses that you will meet in this map are:
The map is divided into two parts, these are:
You will meet many enemies in your way and you have to deal them by using special items that you will find.
4. Ancient Basin
This map is a bit different than others as you are going to meet different creatures and lots of enemies. It is located on the deepest part of Hollownest. Ancient Basin is the home of Pale king and White Palace is also located there.
It is divided into two parts:
Hidden Station
Palace Grounds
Monarch Wings are required to access the Palace Grounds because it disappears with rhe Pale King. To visit the Hidden Station, you have to break a wall located on the eastern side of Palace Grounds.
5. Fog Canyon
The smallest Hollow Knight map is Fog Canyon. The core retains Teacher's Achieve. This map has only one boss to defeat, his name is Uumuu. To kill other enemies, you can use spells.
These are the two main sections of this map:
Teacher's Achieve
Overgrown Mound
6. Fungal Wastes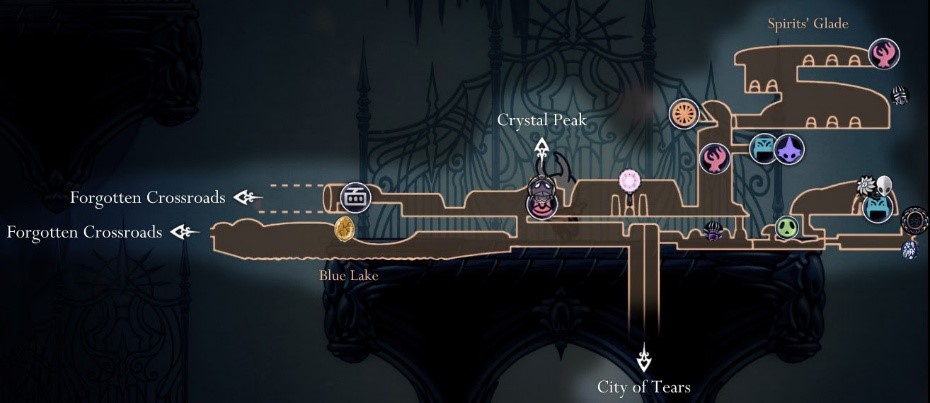 Fungal Wastes is an interesting map. It has connections with other maps like Fog Canyon and City of Tears.
You will meet many Non-player characters like Hornet, Bretta, Cloth, Mister Mushroom, Cornifer. You will also meet enemies like Fungoon, Sprog and Shrumeling.
This map is divided into two sections:
7. Howling Cliffs
This Hollow Knight map is also not big. It requires 75 geo points to unlock. To complete this map, you have to defeat a boss at the end named Gorb Warrior's Grave. These are the collectibles available in this map:
The other items available to unlock are:
Vessel Fragment
Wanderer's Journal
King's Idol
8. Forgotten Crossroads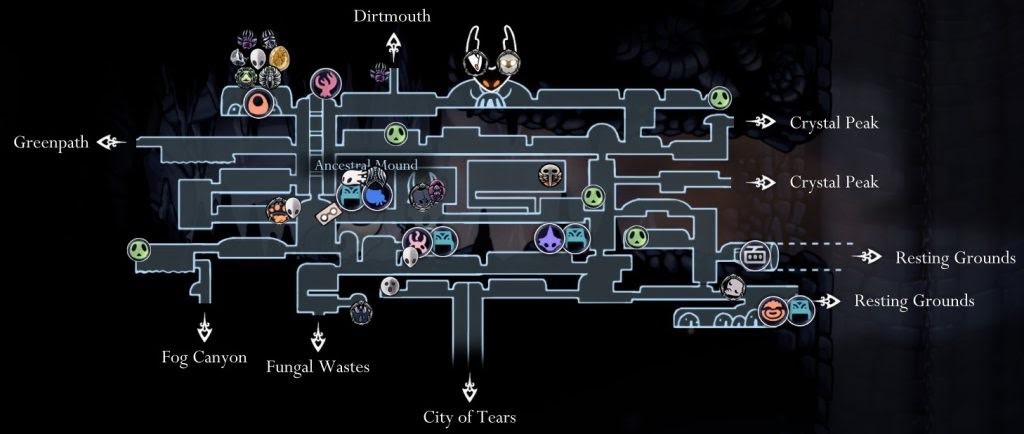 The next map in Hollow Knight is Forgotten Crossroads. This map contains many ancient roads filled with different creatures and enemies. These are the four parts to explore in the map:
Ancestral Mound
Temple of the Black Egg
Infected Crossroad
Special Rooms
You will need 30 geo points to unlock this map. Following are the bosses that you have to defeat to complete this map:
Failed Champion
Brooding Mawlek
The Hollow Knight
To defeat these bosses, you can unlock items like:
9. City of Tears
City of Tears is an important map of Hollow Knight. It is the capital of Hollownest. It is accessible from Fungal Wastes and Ancient Basin. You will fight more than 3 bosses in this map, these are:
Soul Master
Soul Tyrant
Watcher Knight
The Collector
Unlockable items are also included in this map:
Vessel Fragment
Simply Key
Hollownest Seal
Wanderer's Journal
Rancid Egg
10. Crystal Peak
It is situated in the east of Dirtmouth. It also has a mountain that is used to mine crystals. You will meet two bosses in this map, these are:
Engraged Guardian
Crystal Guardian
You can unlick items like Pale Ore, Wanderer's Journal and Rancid Egg. You will see many enemies with unique powers. You can defeat them with spells and different items.
11. Greenpath

This map is similar to the maps that we have discussed. You will unlock different items like:
Vessel Fragment
Mothwing Cloth
60 geo points are required to unlock this map. You have fight 3 bosses to complete this map, these are:
Hornet
No Eyes Warrior's Grave
This map is not so big but it is fun. You will get a set of different items to unlock.
12. Queen's Garden
The last Hollow Knight map on our list is the Queen's Garden. It is located at the west part of Hollownest. This map is full of thorns and perilous platforms. This map is pretty good with the mix of bug and flora made structure.
You will meet two bosses at the gate:
Other than the bosses, you will also meet enemies like Maskfly, Aluba and Petra.
You can unlock Love Key in this map. The Love Key is used to unlock the tower of love in the City of Tears. 
Conclusion
This blog features a list of Hollow Knight maps. We have talked about all of them above briefly. You can read them to get an overview of all the 12 Hollow Knight maps!
I hope this blog was helpful for you, comment below which map is your favourite?
FAQs
These are some of the frequently asked questions about the game Hollow Knight. we have tried to give a simple and quick answer.
Is Hollow Knight for free? 
No, Hollow Knight is not free. You have to buy it from the official game website. 
How many GB is Hollow Knight?
To install Hollow Knight on your computer, you must have 9GB of available space. 
Is Hollow Knight kid friendly?
According to the game creators, Hollow Knight is not suitable for kids below age 7.