Genshin Impact is an action role-playing game developed and published by miHoYo on September 28, 2020. It requires players to battle bosses using different characters who can be switched out mid-battle to bring forward more diverse playstyles.
New characters are always being added to keep the game fun and exciting. Among these characters is the first Geo bow-wielding character named Gorou. He is part of a rebel group known as the Watatsumi Army. If you have been lucky enough to get Gorou and now wish to ascend him but you do not what materials are required for the process, then this blog is just for you.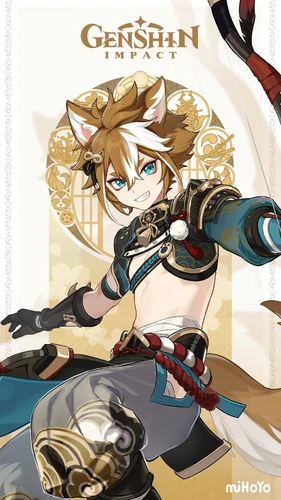 Gorou Ascension And Talent Materials Quantities and Locations
Several items are required for Gorou's ascension to take place, the items you will need are:

Prithiva Topaz – For a complete ascension you will need Prithiva Topaz Silver x1, Prithiva Topaz Fragment x9, Prithiva Topaz Chunk x9, and lastly Prithiva Topaz Gemstone x6. You can find these items in Marjorie's Souvenir Shop in Mondstat City, Killing Lv. 40+ Geo Hypostasis, Killing Lv. 60+ Hypostasis, and Killing Lv. 75+ Geo Hypostasis respectively.

Perpetual Heart – You will need a total of 46 Perpetual Hearts and they can be obtained by slaying the Perpetual Mechanical Array found in the Inazuma.

Spectral Items – Items like Spectral Husks x18, Spectral Heart x30, and Spectral Nucleus x36 are also required. These can be obtained by killing Specters which can only be found on Enkanomiya, Watatsumi Island, and Seirai Island.

Sango Pearls – A whopping 168 Sango Pearls are mandatory for Gorou's ascension. Fortunately, they are available on Watatsumi Island inside of pink corals in great numbers.

Mora – The player will also need to be in possession of a total of 420,000 Mora, which is the in-game currency of Genshin Impact, to complete Gorou's ascension.
Once you have gathered all these items in the amount mentioned, you will be able to fully ascend Gorou and use him as a playable character in Genshin Impact.
FAQs
Following are some frequently asked questions in the Genshin Impact community:
Is Gorou worth it?
Gorou might prove to be very useful as support if your team is compromised of Geo characters. Regrettably, that is it, Gorou is practically useless in all other scenarios because of his DEF stat.
Who is the best character in Genshin Impact?
There are several characters in Genshin Impact who are immensely powerful and can make getting victories easier. These include fan favorites like Ganyu, Hu Tao, Raiden Shogun, etc. among them.
Is Genshin Impact pay to win?
This is a very frequently asked question in the community, and honestly, the answer to it is a bit tricky. Although you can certainly enjoy the game without spending a single penny, the game still focuses a lot on microtransactions through the gacha system, so it is somewhat up to the player to decide.
Conclusion
Genshin Impact is an action role-playing game developed by miHoYo. It has a plethora of useful characters to choose from, which you can use throughout the game to battle your enemies. It also has a feature where you can ascend your characters to make them even more robust than they already are. This blog discusses the materials required for the ascension of a character called Gorou as well as their locations in-game. If you found this guide helpful feel free to let us know in the comments below.
For more help on Genshin Impact, read our