Looking for the latest on Fortnite server status?
Get the newest intel on server outages and troubles related to Fortnite.
Continue reading.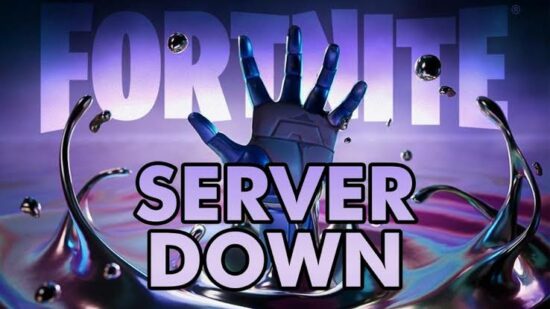 Is Fortnite Down?
Determining the current Fortnite server status is crucial for players who may experience unexpected downtimes or connection issues. The server status of Fortnite impacts millions of players worldwide, influencing gameplay availability and performance.
When the servers are down, players might encounter various errors such as login problems, matchmaking issues, or complete inaccessibility to the game. The reason for server outages can range from scheduled maintenance to unexpected technical difficulties.
Players will often notice error messages within the game, or may experience problems when attempting to connect, indicating potential server issues.
It's important to differentiate between widespread server problems and individual connection issues. If Fortnite is down, the problems will be universally acknowledged by the game's community and confirmed by official sources.
However, if the server status is operational and you're still encountering problems, the issue may lie within your local network or device.
The Epic Games Public Status page is a reliable source for real-time server status information. Moreover, the Fortnite community on platforms such as Twitter and Reddit can be a valuable resource for community-reported issues.
If the servers are indeed down, Epic Games will work on addressing the matter, and players can usually expect a resolution or an update within a short timeframe.
How to Check Fortnite Server Status?
To check the Fortnite server status, there are multiple avenues you can explore. The most direct method is by visiting the Epic Games Public Status page.
Here, you can view a detailed breakdown of the game's operational status, including any ongoing issues with the game services, store, and website.
Epic Games Public Status page: https://status.epicgames.com/
Other than the official source, players can also check various social media platforms where Epic Games communicates with the community.
Twitter, especially the Fortnite Status account (@FortniteStatus), provides frequent updates on the server status. Additionally, community forums such as Reddit and the Fortnite community Discord server can provide real-time feedback from players experiencing similar issues.
Furthermore, third-party websites like Downdetector also track and report on the status of various services, including Fortnite. They offer a graph displaying reported problems in the last 24 hours, which can be helpful in identifying any ongoing issues.
However, it's essential to use these third-party services as supplementary sources, with the official status page being the primary reference point.
Common Fortnite Server Issues
Fortnite players may encounter a variety of server-related issues, some more common than others. Among these, the most frequent include:
Login Failures: Players cannot sign in to their Fortnite accounts, often receiving error messages.
Matchmaking Problems: Delays or failures in joining game lobbies, often accompanied by long queue times.
Lag and Performance Issues: High ping, jitter, or packet loss affecting gameplay quality.
Scheduled Downtime: Planned outages due to maintenance or updates, during which servers are temporarily unavailable.
Unexpected Outages: Unplanned server downtime due to technical failures or external factors.
Partial Service Disruptions: Certain aspects of the game, like the store or friends list, may be dysfunctional while the rest of the game operates normally.
When encountering such issues, it's essential to confirm whether they are isolated or widespread. This confirmation can be done through the methods mentioned earlier, such as checking the official status page or community feedback.
Understanding the nature of these common problems can help players adjust their expectations and plan accordingly.
How to Change Fortnite Server?
If you're experiencing issues that seem region-specific or want to play with friends on a different server, changing your Fortnite server is a straightforward process. Here's how to do it:
Open Fortnite: Start the game and navigate to the main menu.
Access Settings: Click on the 'Settings' gear icon.
Go to the 'Game' Tab: Within settings, find the tab with the game settings.
Matchmaking Region: Scroll to the 'Matchmaking Region' option.
Choose Your Server: Select the server from the list that best suits your needs based on location or preference.
Apply Changes: Confirm your selection, and the changes will be applied.
It's important to note that playing on a server that is not the closest to your geographical location may increase latency and impact your gameplay experience.
Always try to balance the need for better performance with the desire to connect with friends or to find a workaround for local server issues.
Conclusion
In conclusion, keeping tabs on the Fortnite server status is a vital aspect of the gaming experience for players around the globe. Server outages can be a source of frustration, but with the right tools and knowledge, players can stay informed about any issues or maintenance periods.
By using the official Epic Games Public Status page, social media updates, and leveraging community reports, players know the game's operational status.
Understanding common server issues and knowing how to change servers can further enhance the gaming experience.
FAQs
How can I tell if Fortnite is down for everyone or just me?
Check the Epic Games Public Status page and community forums to see if others are reporting the same issues.
What should I do if I can't connect to Fortnite servers?
Verify your internet connection, restart your device, and check the official server status for any announcements.
How often does Fortnite go down for maintenance?
Scheduled maintenance typically occurs bi-weekly to coincide with game updates, though this can vary.
Can I play Fortnite on a different server if my local one is down?
Yes, you can change your matchmaking region in the game settings, but expect potential latency increases.
How long do Fortnite server outages usually last?
The duration can vary; planned maintenance is usually a few hours, while unexpected outages can vary based on the issue.
Where is the best place to get real-time updates on Fortnite server issues?
The Fortnite Status Twitter account and the Epic Games Public Status page are the best places for real-time updates.
Are Fortnite server issues common after an update?
It's not uncommon for server issues to arise after a major update due to increased player volume and significant changes.
Can server issues affect my in-game progress?
Server issues can prevent access to the game, but your progress is saved and should not be lost.
What is the most common error when Fortnite servers are down?
Players typically see login failure messages or matchmaking errors during server outages.
How can I report a new server issue to Epic Games?
You can report issues through the in-game feedback tool or on the Fortnite community pages.