You might have been seeing a lot of error messages if you've used Kodi for quite some time. There's a message that says stream all the sources error check the log for more information. Many users have experienced this error. According to users, the problem occurs when any add-on is installed. It is also known as a Kodi log error.
There have been reports that after installing the addon, users are unable to access Kodi services. Because of the error, users cannot access Kodi services. This issue has been reported by many users worldwide. That is why we will be describing all those methods you can use to resolve this stream all the sources error check the log for more information issue in this troubleshooting guide.
Stream All The Sources Error Check The Log For More Information
Kodi may display such error messages for a variety of reasons. Here are some of the most common causes. The most common cause of this error is an improperly installed add-on or a missing file. Kodi add-ons are usually installed by downloading the setup file from the source URL. That URL is then used for installation.
Several script files are included in the installation. The majority of add-ons are written in Python. Many scripts are included in the add-on setup file. An example would be a cache memory having a file with the same name which may be overwritten or ignored. You would encounter an error if the file were ignored during installation.
An event log records all the information about an event. Additionally, Kodi tracks all software-level errors and warnings. Therefore, all these error messages are recorded in Kodi's log file. It is for this reason that Kodi throws the "Check the log" error message. In the log, the actual reason for the error can be found once the error message is checked.
How to check the Kodi log?
Kodi's official team has developed an add-on for checking Kodi log files. Kodi Log Viewer is its name. Take advantage of the addon in order to fix your Kodi error.
What is Kodi Log Viewer?
Kodi users can check which location, file, or dependency is causing the problem by using the Log Viewer add-on. You can solve the problem using any of the methods listed in the Log Viewer. Let's first install the Log Viewer add-on by following these steps.
Log Viewer for Kodi: How to install and check logs?
Launch Kodi. From the left column, select Add-ons.
Select Install from the repository. Navigate to the Kodi Add-on repository. Select Add-ons. Afterward, select Kodi Log Viewer.
Install and run the addon now.
Kodi's Log Viewer will now offer the following four options.
Choose Settings first. Select Invert Log. You can view all error logs from the latest to the oldest by doing this.
You can also select the option "Show error log when an error occurs" as a secondary option. If this option is enabled, notifications will be sent with error details. You may turn this feature off if it is bothersome.
Please close your settings now. Choose the "Show Log" option.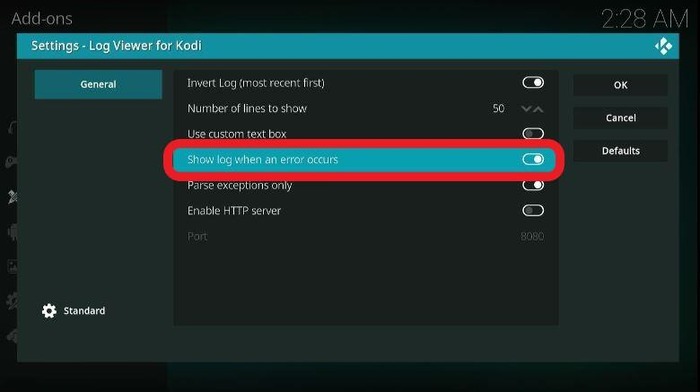 Next, let's see how to fix the Kodi error Check the log for more information.
Purge packages and clear the cache
You are most likely experiencing Kodi errors due to your Kodi cache or a package that needs to be purge. Add-ons usually override the default settings. In addition, buffered data should be saved on your drive to avoid buffering issues. The accumulation of this cache can create a variety of problems. One of them is "Check the log for more information".
As of now, Kodi doesn't give you the option of cleaning the cache and removing purge packages. You can do this by using a third-party cleaner.
Users of Kodi have become familiar with the Merlin Auto Cleaner program. Unfortunately, it was shut down at the end of last year. A similar maintenance program known as Ares Project was also terminated. It has, however, made a comeback. It's no longer contained in the repository of the Ares project, as it was in the past.
Clearing Cache and Purging Packages using Ares Project
The Ares Project can now be found at https://androidaba.com/addons. You can solve "check log for more information" error by following the instructions below.
Click on Settings when you are at Kodi's home screen. On the top left side of the screen is a button that looks like a cog.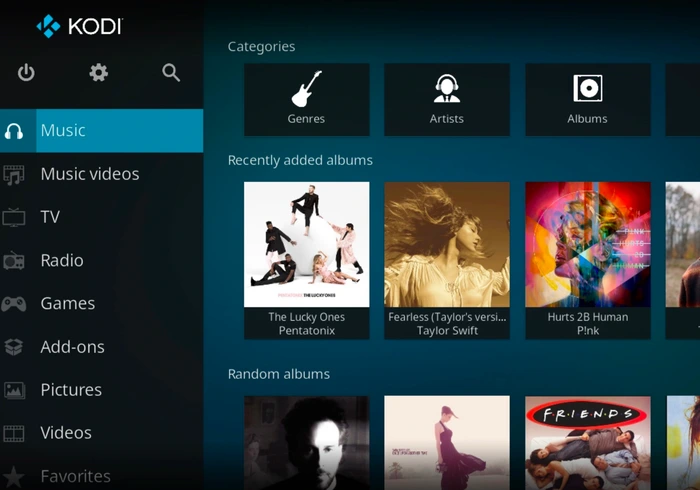 Click "Add source" after scrolling down.
Paste or type "http://androidaba.com/addons" as the source URL. After that, enter "Ares Wizard". Select "Okay".
Go back to your Kodi home screen. Click "Add-ons".
You will find the icon for the open box at the top of the addons page.
Choose "Install from Zip File".
Search for "Ares Wizard" in the source you just added.
Select "Script" when the next page appears. Click on "script.areswizard-0.0.69.zip".
Wait a few seconds and then click it. Notification may or may not appear. The installation will still proceed. Go to Addons to confirm. Click on Program Addons. It should appear there. Click to open it.
Visit the maintenance section once it has opened.
Delete packages, cache, and thumbnails should now be possible.
Be careful when using Ares Wizard, however. It may cause your Kodi system to malfunction. You may have to reinstall the software. Do not use Ares Wizard unless you are sure about it.
If you're having trouble installing Kodi, you can also try the Fresh Start feature under "More". Your Kodi installation will be restored to a 'fresh' state.
Update the URL resolver
In order for Kodi to stream content, it is essential to have the URL Resolver file. Kodi addons are almost all based on URLResolver. A great invention of Kodi, it fetches streaming URLs and resolves them automatically.
If you don't have it, many links may break. The issue may also exist. In that case, if you get Check the log for more information Kodi error, then it is likely a URL issue. This must be fixed. To do so, you must update the URL resolver. If you do not already have it installed, please do so right away. You can update URL Resolver by following the steps below. Simply follow the steps and fix the problem.
Launch Kodi. Select Settings. Click on System.
Select Add-ons from the left column of the system settings.
Choose Manage dependencies.
Scroll down to the bottom of the list. Look for URL Resolver and click it.
The next step is to update the URL Resolver.
The URL Resolver on TVAddons is the latest version. It can be updated there.
Restart Kodi after you have finished. Make sure the Kodi error is fixed by checking the log for information. If it isn't, continue reading.
Use a VPN
It is possible that you cleared the cache and purged packages but still received the error. When that happens, you are probably trying to access geo-blocked content. Alternatively, your ISP might be blocking that source due to copyright issues. In this case, you will see errors like "Check the log for more details".
Your best option is to use a VPN service. When you access the internet anonymously, you use a VPN. A VPN is a great security tool to have in your laptop. That's because viruses and spyware need your IP address to infect you. A VPN masks your IP address and hides your own IP address. It also allows you to search privately. Your activities are not recorded.
You can easily mask your IP address by installing VPN software on your device. You can watch US content from the EU by simply masking your IP address to the US.
However, geolocation isn't everything. Your ISP may block certain content due to copyright issues. Whenever you connect to a VPN, irrespective of your location, you will be anonymous. Therefore, your ISP can't track what you're doing online. As a result, no content will be blocked.
Final Words
All possible methods for fixing the stream and all the sources error check the log for more information error have been discussed in the above troubleshooting guide. The causes of the error are briefly explained in this guide. In the comments, let us know if you have any other method of fixing the issue.