If you are dealing with divinity original sin 2 crashing issue then this blog can be helpful for you. So keep on reading to the end!
Many players are struggling with the Divinity Original Sin 2 crashing problems. You are not alone!
By the end of this blog, you will know the reasons and solutions to fix the crashing errors in divinity original sin 2. But before we get to know the reasons for this error. You must have the following minimum system requirements to run the DOS 2 game:
35 GB available space
Windows 7/8/10 (64 bits version)
4 GB RAM
Intel Core i5
Nvidia GeForce GTX 550
Make sure that you have the given requirements because your game will continue to show different errors, if you don't have the required specs.
For more help on Divinity, read our Divinity Original Sin 2 DirectX Error, Division Crash to Desktop Problem
Causes of Divinity Original Sin 2 Crashing Randomly Issue
There are many reasons for the DOS 2 to crash on your pc. It can be a small reason that will just need a system restart or maybe a big problem that will need reinstallation. The most common reasons are:
Using Old version of the game
Conflicting and Overlaying applications
Incompatibility
Network Issues
Outdated Windows and Drivers
How to Fix Divinity Original Sin 2 Crashing Randomly Issue
We have covered 6 solutions to fix DOS 2 crashing issue. Follow them one by one and make sure you apply these methods properly.
1. Give Firewall Access
if you have an active firewall then you should disable it.
Type Windows Defender Firewall on your desktop menu
Then, click on it and from the left click on add another app or feature…
Then look for divinity original sin 2 and allow it
2. Check for Updates
After allowing firewall access, check for the following updates:
Graphics Drivers: Make sure that your graphics drivers are updated and if not, update them to the latest version
Windows: other than graphics drivers, also update your windows. Look for Update & security and after that click on check for updates. If any update is available then complete the update.
Update the Game: if your game is not updated, then do update it as well because updating the game can also fix crashing issues.
If updating all of the above things does not work for you. Then try the next fix.
3. Remove NahimicService
Many players have suggested that removing the NahimicService from the game can fix these random divinity 2 crashes. Follow these steps to disable Nahimic Service:
Open the Task Manage by right clicking on the task bar
Go to Services tab
Search for the NahimicService
Click on it and select Stop
After that, Select WINDOWS + R keys
Type Msconfig on the new window
Head tot he Services tab and untick NahimicService there
Press WINDOWS + R keys again and type services.msc
Look for NahimicService and go to Properties
Disable it from the Startup type
Lastly, restart the game and check for the error.
4. Disable Conflicting Apps
if you have any overlaying app then this can be the possible reason for this issue. You should disable all the conflicting apps like Live Streaming apps, discord, screen recording apps, Spotify etc. Make sure to disable every single overlaying app that you are using.
In addition, if you have mods enabled, delete them too and then restart your game.
5. Run in Compatibility Mode
if you are using Windows 10 then it can be an incompatibility issue. You should try running the game in Windows compatibility mode. Follow these steps:
Right-click on the game icon
Now, click on Properties
Go to the Compatibility tab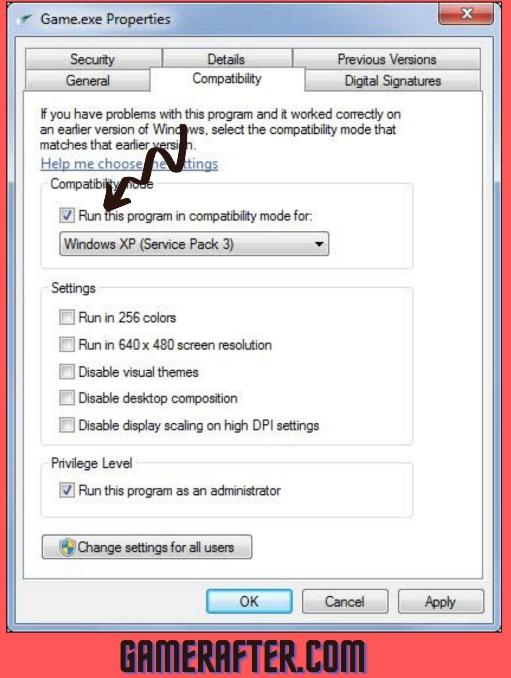 Select Windows 7 compatibility mode and save the changes
After that, restart the game and check for the error
Your Divinity Original Sin 2 error should stop by now. But if it persists, move to the next fix.
6. Re-install the Game
If you are unable to fix the DOS 2 crashing issues by applying the above-given methods, then the last choice is to reinstall the game.
Delete the game completely and make sure to install it properly! This should fix the error.
Frequently Asked Questions
These are some of the FAQs about the divinity original sin 2 errors.
How can I fix Divinity Originals 2 black screen on startup issue?
Update your video and graphics drivers. This will fix the error and if not, try to verify the integrity of game files.
How to fix api-ms-win-crt-runtime-l1-1-0.dll error?
This error indicates that your Windows needs an update. You should update your Windows to the newest version to fix this error.
How to fix Divinity Originals 2 Network connection problem?
If you are dealing with the network issues then try restarting your system and make sure your game is updated. If this doesn't help, try to restart the router.
Conclusion
This blog was about the Divinity Original Sin 2 Crashing issue. We have covered the necessary information that you will need to fix this error. It includes the reasons for this error and also the solutions. Make sure to apply the given solutions properly and you will see great results!
If you have any queries, you can ask them in the comments!