Are you looking for the Best Musty camera settings? Then look no more, because this blog is the 2022 updated version of Musty camera Settings!
If you are a gamer and thinking of setting up your camera then following the Musty Camera Settings would be a great decision for you. Playing with the right camera settings can also level up your gaming experience.
If you are a Rocket League player then you must already know who musty is, but if you haven't played the game yet, let me tell you who musty is.
Who is Musty or AMustyCow?
Musty is a popular Rocket League gamer. The reason for his popularity is the Grand Champion Award that he has won 6 times. Musty also has a YT channel with 2.5 million+ subscribers that go by the name of AMustyCow. Musty is also know for his invention "Musty Flick" in Rocket League.
In this blog, we are going to discuss Musty's camera settings that he uses and you can use to enhance your gaming experience!
Musty Camera Settings
These are the latest Musty Camera Settings:

• FOV – 110

• Height – 110

• Angle – -3.0

• Distance – 240

• Stiffness – 0.25

• Swivel Speed – 7.2

• Transition Speed – 1.4
You can apply these settings. A victory just needs two things: Good camera settings and Gaming skills. If you have gaming skills then applying these settings will definitely get you a win!
Tips by Musty for Camera Settings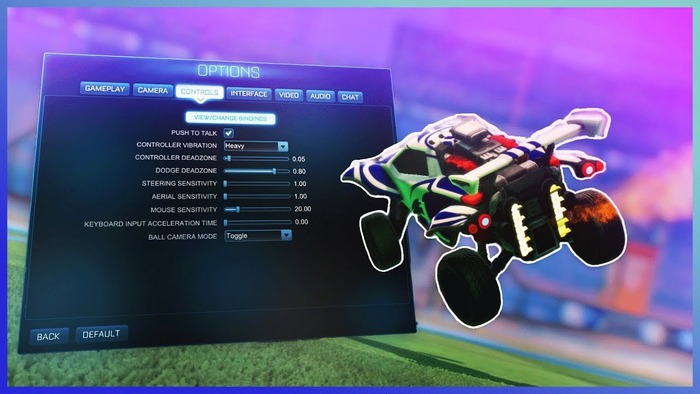 Musty often changes his camera settings and tries different settings every now and then to get the best settings.
These are some tips given by Musty to choose the best camera settings for yourself:
Camera Height
This setting helps you to configure your camera height above the car. By default, it is 100 but it is not recommended by the pro players. Musty's camera height is 110.
Camera Stiffness
Camera Stiffness decides how smoothly the camera will follow the car. Most of the players keep it to 0 or 1 but Musty has kept it to the lowest which is 0.25.
Camera Angle
The camera angle decides that which side of the vehicle will be facing the camera. Pro players have kept the settings as it was at -3.0, and Musty has also kept it to -3.0.
Camera Swivel Speed
It will not be wrong if I say that Swivel Speed is the most important setting to get a win. Camera Swivel Speed decides how fast the camera will turn when the car will take a turn. By default, it is 2.5 but most of the players keep it between 2.0 to 10.0, Misty has also kept it to 7.2.
In the end, I will suggest you keep on testing different camera settings as Musty does. You will surely get the best settings for yourself.
Conclusion
This blog features the 2022 updated version of Best Musty Camera Settings. All of them are mentioned above. You can use these settings to get a victory every time you play Rocket League. These camera settings are also approved by the pro players!
I hope you like this blog, you can share your queries in the comments!
FAQs
What is Musty Flick?
A Musty Flick is a Backflip that flies your car forward. It was invented by Musty hence got the name, Musty Flick.
What rank is on Musty?
Musty is on the Grand Champion rank in Rocket League. He has won the Gran Champion Award 6 times.
How old is Musty?
Wyatt AKA Musty is 22 years old. He is a creator on YouTube with over 2.5 million subscribers