What Is The Best Tinder Bio For Guys?
So your buddies have told you how easy and great it is for you to laid on tinder. Of course, you set up a profile snap a quick pic, and wait for the matches and the meetups to be accepted. good tinder bio lines
And you wait.
and wait…
and wait…
What the f*** is the problem?! You think to yourself.
The problem is believed in the lie. Tinder made it a lot easier to get laid than it used to be but you still do have to put in some effort if you're not a 6'3 220 lbs jock.
If you want to get laid or date on tinder your profile and bio are everything!
First, let's start off with your photo. A quick selfie in the bathroom isn't going to cut it. Check out this Tinder fail
I mean honestly, this guy looks creepy. As a woman looking to get laid it wouldn't matter if he had a six-pack and an 8-inch c*** he's getting swiped left quick and in a hurry.
The sad part is this guy probably thought he was looking confident in this photo.
Just remember a picture is worth 1000 words!
When deciding which photo to use think about the message you want to send to the universe. Now let's take a look at photos that would make almost any girl moist.
What message does this photo convey?
This photo tells a girl that his guy has pretty much everything most women are looking for.
It shows confidence because he's adventurous and willing to travel to a faraway place.
It shows he has compassion for others and isn't a self-absorbed jerk.
It also shows that he's not bad looking guy because it doesn't look fake or filtered. Honestly, I would let this guy in my pants any day even if I knew he wasn't going to call the next morning.
One more thing about photos
Before I move to the bio itself I want to touch on one more thing about photos. They can't be too good! That is they can't be too professional looking.
This photo is just way to photoshopped and professional and it doesn't look real. I would be immediately suspicious if I saw a guy with this photo which would mean yet one more barrier to get across to reach your goal.
If you want to get the best results your photo needs to be high quality but still look like it was taken on your cell phone.
This is a perfect example of what a good tinder photo (and bio) should look like. It's high quality but still natural and but it doesn't look like it was taken by a professional that he paid a lot of money to make him look good!
What's even better is his photo compliments his bio and sends a great message about his values and what kind of girl he's looking for.
Now onto the bio!
If you want to get a date on tinder you need a good bio! Using the above photo you can see what a good bio looks like.
For some reason, some guys think that they need to try to write a book about themselves in order to get a girl's attention and it's just not true.
A good bio is short and sweet. It needs to tell who you are and what's looking for and a conversation piece.
Good bio example:
Love football, rock climbing, work in IT. Would open to meeting a new rock climbing buddy and my best friend is a goldfish (not really).
This bio tells what you are who you are (an active person), what you're looking for (rock climbing buddy), and gives an opening for a good conversation (rock climbing, fish, IT) and it has a joke.
I know you're thinking 'but I just wanna get laid I don't want her to stick around. Don't worry most women on tinder know what time it is.
It's just that most girls don't want to feel easy so they justify it in their minds by saying 'oh we can be rock climbing buddies'. This is just to give you an opening.
So what's the best bio on tinder for guys?
1. You need a good high-quality picture
2. Your bio should convey interesting and useful information without being too long.
100 Best Tinder Taglines For Guys in 2023
So here go our best tinder taglines for guys.
Well here's the deal: I am a smart, intelligent, sweet guy who just finished his MBA, with a well-paying job but in a new city. So, if you swipe right and feel that the guy in the pic looks anything like a nice person, like and we will grab coffee Ready? Swipe!
Swipe right if you are a real 90's kids who remember the death of your innocence at the hand of soul crashing recession killing all the career opportunities.
I like to talk about all the things you are not supposed to discuss in polite company.
Send me an emoji that represents our first date, I'll send you an emoji that represents our future
73% gentleman. 27 % rogue
"I am so glad I swiped right."- future you.
Next ups: windsurfing lessons. Swipe right to join!
I don't have nightmares, I create them.
Professional bathroom singer. Seeking duet partner.
Dark chocolate? Turtle cheesecake or cherry Garcia??
"I'm too good for this place and you're all losers".
"I'm no good with bios"
If you can eat more McDonald's cheeseburgers than me then swipe right let's have a challenge.
If you can't handle me at my worst, then leave because I don't have the best. I'm always awful.
Our relationship should be like Nintendo 64–classic, fun to spend hours with, and every issue easily fixed by blowing on it then shoving it back in.
If you like protein shakes and getting caught at the gym, if you're not into Crossfit, if you have half a brain, if you like making gains at midnight, while curling in the squat rack, I'm the love that you've looked for
You'll have my friends hating you while you control every aspect of my life. What are you waiting for?
Getting lost in the supermarket was scary, mamma would call out my name and everyone would call out Polo, drowning out my pleas for help.
I'm just a boy, standing in front of a girl, asking her if she's going to eat the rest of that pizza.
Sometimes I feel like I don't have a dating partner. Sometimes, I feel like my only option is looking at girls and their pictures on the app they call Tinder, lonely as I am, together with a swipe right.
Did you pick any tagline?? If not, don't worry, we have much other fun, cool, and unique tinder taglines for guys.
Funny and Cool Tinder Taglines for Guys
Well, if you didn't like the above taglines, try these cool Tinder bios for Guys. These tinder taglines for guys are really cool and clever to use.
I am banking on your standards being a lot lower than mines
I am 6 feet & 4 inches. Those are two measurements
Don't bother messaging me if you are only looking for hookups.
I am cultured in that I like imported beers and traveling. If you can't laugh at yourself I will.
Living alone for the first time. Kayaking, craft beer, my dog, good books, good music, everything else. I like talking about all the things you're not supposed to discuss in polite company. I need more Lake Michigan in my life. Straightforwardness greatly appreciated."
"Premium Cat Facts available on request.
I'm six feet, 6'6 in heels, and 8'4 instills. I have ten suits so I make a great plus one for your summer weddings. I enjoy exploring, eating out, meeting new people and, and the Oxford comma. My dog hates pictures.
I have multiple passports, but I'm not a spy. Tell me where you need residency, and I'll marry you there to get you in."
Not interested in any tagline. It's up to you.
"Surfer. Tech entrepreneur. Frequent traveler. But when I'm done with the work for the day, the computer power is down and it's time for some fun – whether we're hitting Aspen's slopes for a weekend trip, catching a live rock concert, or headed to Paris for some fresh-baked croissants and the best espresso on the planet. Wanna join? Message me & let's chat."
Most eligible bachelor
Just message if you have the curiosity to know more
Your eyes are beautiful. Oh, wait…did you just blushed? Then swipe right.
Happiness is what I am looking for…Will you be my happiness?
"I am a rocket scientist. I've appeared on the cover of GQ – twice. And after mastering Italian, I became an international super spy. Right now, I'm yachting my way across the Caribbean, stealing top-secret information, and sipping mai tais… shaken, not stirred.
Okay, fine. I exaggerated *just* a smidge. But I do like a good mai tai and I got a B+ in my 5th-grade science class. Message me for more straight talk, and I'll send you FB links, photos of science fair trophies, and much MUCH more…"
"Manhattan, Med School, Dog Lover.
Ranked 4th in the world for thumb wrestling."
English, Terrible comedian, 6 ft – perfect big spoon, Good cook Animal Lover Winner of a Beauty contest in monopoly, Owner of car, Good whistler, Gym goer, Spider killer, Disney world regular, Best hair where I work
Made 50 Shades of Grey seems nothing in front of me
"6'5 and easy-going … BA in history and literature but proudly employed in construction. Big fan of wandering the city, be it on foot or a bike, and exploring all it has to offer. Avid reader, cook, snowboarder, and film buff."
"Married. A couple of kids. Looking for some side action. Just kidding. Single, 3 Tamagotchi. Looking for someone to bring to family events so they'll stop thinking something's wrong with me."
Taller than you in heels, Love positive people, quirks, good wine, Italian food, tense movies, live music, decadence, Open to most things, but let's start with a casual date.
Amazing right?? I am sure you can attract some right swipes using these cool tinder taglines.
Best Tinder About Me Ideas for Guys
Ahh, man!! Do you want more Tinder About me Ideas??
Well, have a look at these. I am sure you must like some descriptions from this list of taglines.
I work for a cause not for applause.
"One hell of a guy."
"Outstanding gentleman."
"You'd be crazy not to swipe right."
I'm good thing small packages come in.
I like long walk on the beach with my girlfriend until the LSD wears off and I realize I am dragging a stolen mannequin around a Wendy parking lot.
Would you catch me if I fall for you?
Kinda boy you would take home to your mom but would blow you on the way there.
Let's get pizza.
Don't judge you are on tinder too.
Swipe the direction of the one you think is more attractive. Plot twist: I win both ways.
Whenever I meet a pretty girl, the first thing I look for is intelligence. Because, if she doesn't have that, she's mine.
Aren't your legs hurting? Because you have been running in my mind since ever I saw your profile.
I want someone I can laugh with and be silly with.
If you stood in front of a mirror and held up 11 roses, you would see 12 of the most beautiful things in the world.
Your lips look lonely. Would they like to meet mines?
I have an AMD graphics card, so you can say I'm used to things getting hot quickly. I'll definitely get you to POST.
Excuse me, if I go straight this way, will I be able to reach your heart?
Hobbies:

– Giving massages
– Buying flowers
– Listening
– Interests:

I'll treat you like a Disney princess on the streets and a p*** princess between the sheets.
Best Tinder Bios for Boys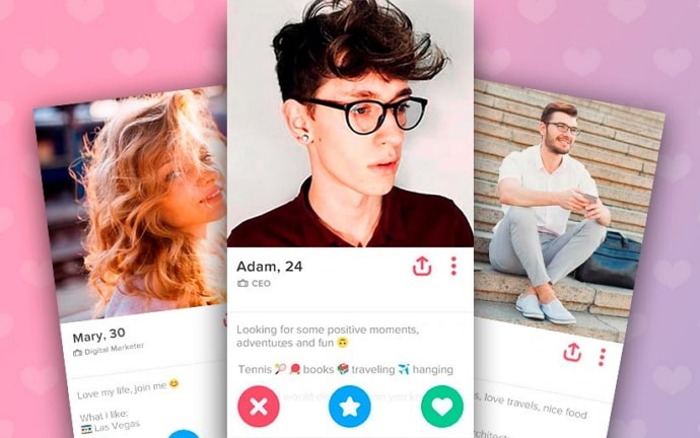 Here are some bios for your Tinder Profiles.
I cuddle at a level that should require a paid subscription.
Looking for someone to grow old with… one night older
Pizza is my second favorite thing to eat in bed.
I'm actually looking for the one girl that dislikes to laugh and hates good music. Bonus points if you dislike the outdoors. If I ever find myself face to face with a tinder then I'm likely in trouble so drop the camera and GET HELP! I'm 6'1 so please be taller than me in heels.
Let's just give it a try.
Everyone deserves a chance so do I.
Boy with no pimples but dimple.
Changed enough in accordance with others. Now no more. Swipe right, only if the preceding line suits you
If our conversations don't bang, neither will our genitals.
Don't know why Tinder thinks I'm 18. I'm actually 30.
"Netflix and chill? More like intense intellectual conversation and then rough sex."
No hook-ups only love.
I'm looking for a girl who is super mean. She also has to be really clingy and jealous. I prefer women who talk a lot about their ex and a love for bootyliciousness. In my free time, I like to take my shirt off and take selfies. I'm super in shape thanks to my strict diet of Mountain Dew and Twizzlers.
You never have to worry about me walking out on you.
One like you have got never before.
Just doing this because my girlfriend did. She said it doesn't mean anything. Message the s*** out of me.
Looking to meet some new people and see what happens.
Seeking someone that looks good on the arm to take to social events!
I'm here to avoid friends on Facebook.
Got any tagline yet??
Best Tinder Bio Lines (For Guys & Girls) Which Makes To Swipe Right
And here's the last set of Top and Best Tinder Taglines for Guys.
C'mon, pick one from this list, taglines aren't just everything that will do the work. You must have other qualities as well.
I'm here because I'm too lazy to find my soulmate and my mom said that I'm getting old
You look like my next mistake
Leave a message after the beep.
If you're waiting for the opportune moment to talk to me… now is it.
I don't make mistakes, I just date them.
Were you arrested earlier? It has got to be illegal to look that good.
You might be asked to leave soon. You're making the other women look really bad.
Can I take a picture of you, so I can show Santa want for Christmas?
Hey, I just realized this, but you look a lot like my next girlfriend.
"Was that an earthquake, or did I just rock your world?"
"I can die happy now, cause I've just seen a piece of heaven."
You deserve a point of view. If the only thing you see is you.
I am a guy interested in destroying your lipstick, not your mascara.
I love myself. Swipe right only if you love me as well.
No lying, no cheating, no drama
I understand… I always do.
Gone through a bad relationship. If you too, let's correct our past mistakes.
I lost my teddy bear, will you sleep with me?
"Excuse me, but I think you dropped something right here…your JAW!"
"Do you have a library card? Because I am checking you out."
I'm new in town. Could you give me directions to your apartment?
Looking for someone to bring to family events so they'll stop thinking something's wrong with me. Swipe the direction you think you always walk.