Does your Warhammer Vermintide Shows a Backend error? And you have no idea how to fix? Don't worry, just keep on reading!
Warhammer Vermintide is a first-person survival game. The backend error in the game is not uncommon and many players have faced this error before. So, we have made a small guide to fix this error.
We have also discussed the reasons for this error, which we will let you know in some time. Before we jump to the reasons and solutions, these are some of the other similar errors:
Warhammer Vermintide Backend Error 1113
Warhammer Vermintide Backend Error 1127
Warhammer Vermintide Backend Error 1010
Warhammer Vermintide Backend Error 1342
Causes of Warhammer Vermintide 2 Backend Error Issue
Many situations can lead to this error. We have gathered the most seen and common reasons for the Warhammer Backend error. These are:
Network and Server Issues
Corrupted game files
Restrictions in your country
Temporary Server Down
How to Fix Warhammer Vermintide 2 Backend Error Problem Issue in 2023
Now that you know the main reasons for this error, let's move to the solutions. These solutions have worked for many players and may also work for you. So, follow the given solutions properly!
1. Check for Connection Issues
One of the major reasons for this error is connection issues. If you don't have a stable internet connection, this error will show up again and again. Try turning off your internet connection and then turning it back on.
If that doesn't work, restart your router. If the problem is with your connection, this will definitely fix it!
2. Restart Your Game/PC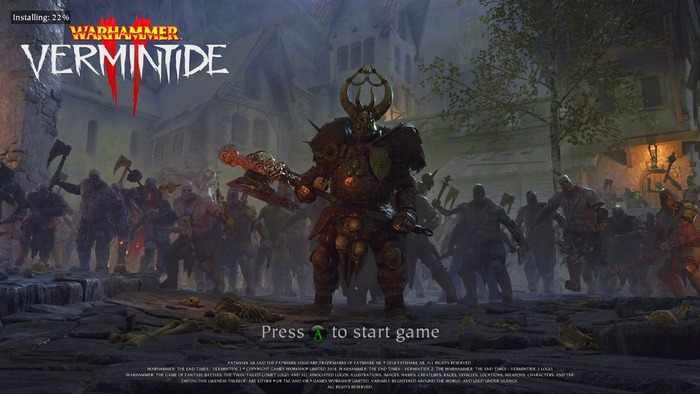 The easiest thing that you can try is to restart your game. You should turn off the game completely and then restart it after some time. If that doesn't work. 
Then try restarting your PC. Turn off it completely and then restart it after some time. If the problem is temporary, this will help.
And if not, try the other solutions given!
3. Check the Game Server
If the backend error is not resolved even after trying the above 2 methods, then this can mean that problem is not from your side. It is from the other side. The server may be temporarily down for some reason or maybe because of a maintenance break. In this case, the only thing that you can do is wait for the server to fix.
You can also confirm it from their Twitter account where they post if something like this has happened. Usually, the servers are online after some time.
4. Verify Game Files Integrity
if your internet is stable and the problem is not from the other side then the next thing that can cause the Vermintide Backend error is corrupted game files. This can be fixed by verifying the integrity of game files. This will automatically identify the corrupted files and will repair them.
Open Steam and then go to Library
Now, search for Vermintide
Once located, click on Properties after right-clicking on it
Go to the Local Files
Lastly, select Verify Game Files Integrity
Let the process finish and then check for the backend error. It should be fixed by now.
5. Change Your Location
Some countries have restricted the IP range due to which your computer is unable to connect with the server, if your country has restricted the IP range then no matter how long you wait, this error will keep on appearing on your screen. 
So in order to fix this, you must change your location. And this can be done by using a VPN.
Install a VPN of your choice, there are many options in the market paid and free, use whatever you like.
Change your location using the VPN and then try to launch the game. This will fix the error.
To Wrap It All Up
We have gathered the top solutions to fix this error and we have also discussed some of the common reasons behind this error. You can read the above.
I hope these solutions were helpful for you and that your Warhammer Vermintide Backend Error is fixed now. If you have any queries, you can ask them in the comments.
Frequently Asked Questions
How to fix the backend error that couldn't resolve the host?
Try changing your DNS. This will fix this error. If you don't know how it works, you can follow this guide.
How can I fix Vermintide 2 backend error 1127?
Try Restarting your game and PC. If that doesn't work the above-given solutions can help you fix this error. Because most of the backend errors are very similar.